Dr.


Philipp Sommer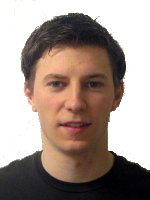 This page is no longer updated, please visit my current website or my Google Scholar profile.
Projects
ZigBit: We have ported TinyOS 2.1 to the Meshbean/Meshbean900 development boards from Meshnetics. The code is available here. For more information, please visit the project website.
TinyOS support for Atmel atmega128RFA1 chip. The code is available on my github page.
YETI - TinyOS IDE based on Eclipse. The source code is available on eclipse labs.
Publications
Theses
Talks
Theses & Labs
Past Theses & Labs

Title
Type
Contact/Supervisor
Assigned
Student(s)
Energy Harvesting Wireless Anemometer [confidential]
S
Johannes Schneider,
Philipp Sommer
FS 11
A Wireless Sensor Network for Orienteering Competitions
M
Philipp Sommer
FS 11
Debugging TinyOS with COOJA
S
Philipp Sommer
FS 11
A Testbed for Radio Propagation Measurements in Wireless Sensor Networks
S
Philipp Sommer
FS 11
Mobile Sensing – Ein drahtloses Messsystem für die Druckanalyse von Füssen [confidential]
S
Samuel Welten,
Philipp Sommer
FS 11
,

A wireless real-time network for roller coasters [confidential]
S
Johannes Schneider,
Philipp Sommer
HS 10
Sensor-Feeds for a WSN Simulation Environment [confidential]
M
Philipp Sommer
HS 10
Using Dual Radios in Infrastructure-supported Mesh Networks: A Theme Park Scenario [confidential]
M
Philipp Sommer
HS 10
A Wireless System to Measure Oscillations of Cable-Cars and Chair-Lifts [confidential]
M
Johannes Schneider,
Philipp Sommer
FS 10
Design of an Energy Harvesting Network Node for Wind Measurement
S
Johannes Schneider,
Philipp Sommer
FS 10
Debugging Wireless Sensor Network Simulations
S
Philipp Sommer
FS 10
ParaglidingNet: A Sensor Network for Thermal Research [confidential]
M
Philipp Sommer
FS 10
SunDroid - A Wearable Sunburn Warning System for Android [confidential]
S
Philipp Sommer,
Samuel Welten
FS 10
Acoustic Localization in Sparse Wireless Sensor Networks [confidential]
M
Philipp Sommer,
Roland Flury
HS 09
Precise Time Synchronization for Wireless Sensor Networks using the Global Positioning System
S
Philipp Sommer
HS 09
Reliable and Energy-Efficient Data Dissemination in Wireless Sensor Networks [confidential]
S
Philipp Sommer,
Roland Flury
HS 09
Development of a Base Station for Wireless Sensor Networks [confidential]
S
Philipp Sommer,
Roland Flury
FS 09
IPv6 for Wireless Sensor Networks
S
Roland Flury,
Philipp Sommer
FS 09
Memory Support for the Pixie Sensor Node
S
Roland Flury,
Philipp Sommer
FS 09
A Load Adaptive & Frequency-Hopping MAC-Protocol
S
Philipp Sommer,
Roland Flury
FS 09
Secure Messaging for Wireless Sensor Networks
S
Roland Flury,
Philipp Sommer
FS 09
Eclipse Plugin for TinyOS Debugging
S
Benjamin Sigg,
Philipp Sommer
FS 09
Porting the ZigBit 900 Platform to TinyOS
G
Philipp Sommer,
Roland Flury
HS 08
,

Enhanced TinyOS Support in Eclipse
S
Philipp Sommer,
Roland Flury
HS 08